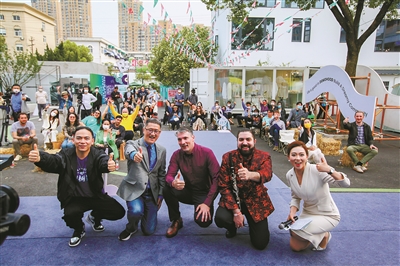 International friends at the "Yongchao Music Live Show". [Photo by Hu Shiyang]
  By Jin Lu
  On the afternoon of May 16th, the "Yongchao Music Live Show", a cultural exchange activity was held in Yinzhou district, Ningbo, during which musicians from Spain, Ireland, and many other countries performed their ethnic music and exchanged insights on art and culture.
  "Music has no boundaries," said Erdem Ozturk, a Turkish businessman in Ningbo, who attended the event.
  An East-West
  Cultural Exchange
  "Yongchao Music Live Show" was part musical concert, part cultural exchange between the East and West.
  The event was held in DEMOHOOD, a creative park in Yinzhou district. Renovated from an old factory, the park is now home to over 50 businesses, including novelty shops, horticulture stores, a yoga gym, designers' studios, and restaurants, all of which are popular with young citizens.
  At 12 PM on the 16th, DEMOHOOD was filled an eager audience, consisting of many young people and expats.
  "As soon as I arrived, I could feel the atmosphere of excitement. Everyone was free to share thoughts, and many cultures met and collided, connecting minds from all over the world," said German from Argentina.
  Music was the throughline of the event, which started with a panel discussion with Chinese and international music experts.
  Isidro Santos Galindo, a Spanish clarinet player and music teacher at the Ningbo British International School, said traditional Chinese culture has inspired him. Galindo lives near Feijun Temple in Yinzhou district. "I really like the Chinese architecture and its aesthetics," Galindo said. "That's why I wrote a short piece of music for the solo clarinet entitled Ningbo Fantasy. It's based on traditional Chinese music."
  Dr. Terry from Ireland told the audience that Irish music has a long history, and that many traditional tunes were adapted multiple times over several eras to convey different sentiments. Then, he performed a three-century-old Irish melody, which expresses the Irish diaspora's longing for their homeland and its beautiful natural scenery.
  "This creative space is really appealing to me. Here, modern ideas are grafted onto traditional crafts to produce creative works, and the atmosphere is very suitable for young people," said one audience member.
  An Inclusive and
  Diverse Live Show
  The "Yongchao Music Live Show" is the main part of the event. It opened with a Hanfu fashion show, showcasing the charm of traditional Chinese garments.
  Yinzhou Musician Chai Yunzhe performed his original electro-acoustic piece Chang'an Dream, which incorporated elements of traditional Tang Opera, Qin Opera, and Beijing Opera with electronic music.
  Galindo played I Love You China, expressing his fondness for China as a westerner.
  Cellists Wu Jialu and Liu Cheng from Xianxiang Town brought the event to a perfect close with a tender rendition of Moon River.
  Turkish businessman Ozturk likened the event to coffee—"It has many different 'flavors', which is very attractive."
  Promoting Chinese
  Music Around the World
  The event fully demonstrated Ningbo's open attitude to the world and its ambition to become a "city of music", where music can be used as a language that transcends national boundaries.
  Professor He Zhenbiao of NingboTech University has been promoting Chinese music around the world for years. Prof. He was once a guest host at a radio station in the US, where he introduced many genres of Chinese to local DJs and listeners.
  "I introduced Butterfly Lovers to an American radio channel that played classical music. I also shared with the listeners Chinese rock music, such as Dream Back to the Tang Dynasty," Prof. He said. "They cannot understand the Chinese language, but they can enjoy Chinese music just as much as we do."
  "The event was so wonderful. I felt very inspired and hope to combine Ningbo dialect with hip-hop music in my own work to let the world discover Ningbo," said one audience member, a successful online influencer.